This is the main salon of the boat looking forward.  You enter it from the aft cockpit or from the pilothouse.  There are stairs to the right leading up into the pilothouse and stairs down to the accommodations.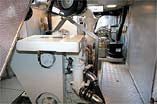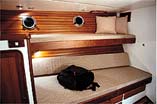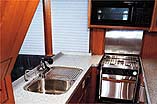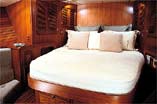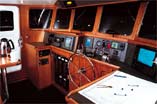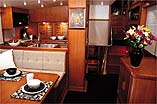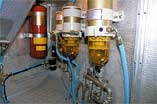 Duet's galley is compact but very workable. She has Corian countertops and plenty of storage space.

The pilothouse is the heart of the ship.  This view is looking forward at the control panel.  There is a settee behind to the left where we sit and watch the world go by.

Duet has one guest stateroom with two bunks.  It has it's own head (bathroom) complete with shower stall right across the hall.

Duet's master stateroom has a centerline queen bed with a small sofa off to the side.  There is a large opening hatch overhead to let in tropical breezes and a separate head with stall shower..

This is the engine room looking aft.  Ron spends a great deal of time here.  The large white object in the center is the main engine.  The engine room is accessed via a door in the guest stateroom.

This is the fuel management system, which includes these 2 large Racor filters.  The filters prevent water and debris from passing through to the engine and keep the fuel clean.  There are 2 so that if one blocks we can switch to the other while underway.