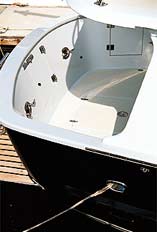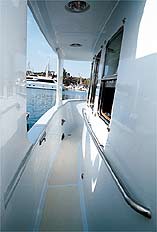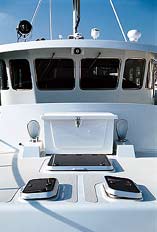 This is a view looking aft standing on the bow of the boat.  Duet doesn't have a dock box in the middle nor does she have a searchlight (yet).

The hatches in the deck are over the master stateroom.

This is a view of the aft cockpit, where we sit at anchor.  Notice the height of the walls; Tristan can just see over standing on his hind legs.

You can also just see the port side door.  There is another door on the starboard side about halfway up the length of the boat.

This is a view looking aft down the starboard side deck.  The boat has this walkaround deck on only the starboard side, which leaves more room in the salon.

Notice the grab rails, the covered overhead and the thickness of the walls.  This wall is waist high and makes you feel very secure walking from one end of the boat to the other while underway.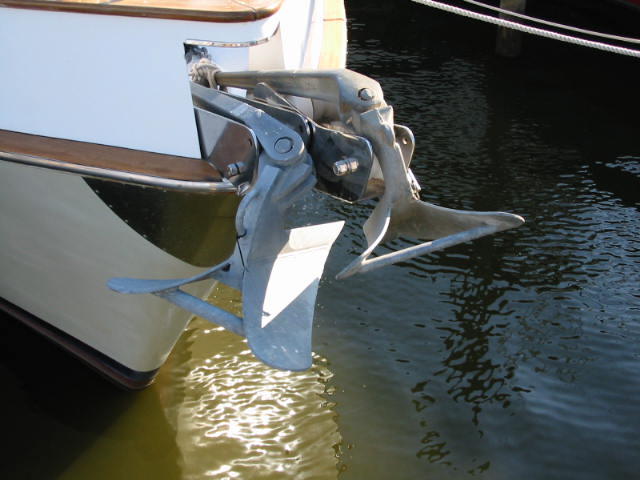 Anchors are very important as they hold us in place when we stop.  Duet carries 6 anchors,with two always in place on the bow as show at left.  Her primary anchor is a 105 lb CQR (a plow type anchor made in Scotland) on 400 feet of 3/8 chain and her 2and anchor is a  65 lb CQR on 50 feet of chain and 350 feet of rope rode.  We've had good luck getting CQRs to hold wherever we've been so far.

Duet also carries a 55 lb aluminum Fortress (with sharp points) a 35 lb Danforth (also a sharp point design) and a 100 lb Luke fisherman's anchor (looks like the anchors on the old sailing ships).  We also have a 24 foot (in diameter) sea anchor (looks like a parachute) which is deployed when we need to stop in the ocean.  Sea anchors are used by offshore fisherman to remain in place overnight or while making repairs.  They can also hold the boat in place while a storm passes rather than continuing in difficult sea conditions.

We hope that we have anticipated most anchoring needs; if not we'll simply add more anchors.  We carry 100 feet of mooring chain and1,600 feet of nylon rode to deploy our additional anchors if we need to.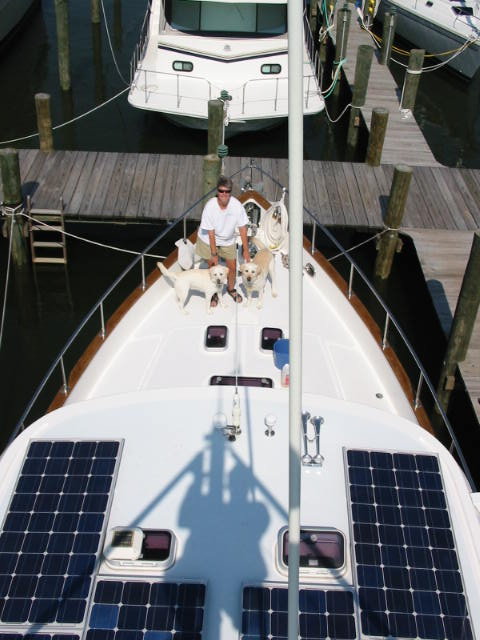 At left is a view from Duet's mast, taken by her intrepid captain (shown in the next photo below).  You can see her solar panels on the top of the pilothouse.  This photo was taken in her slip at Herrington Harbor North.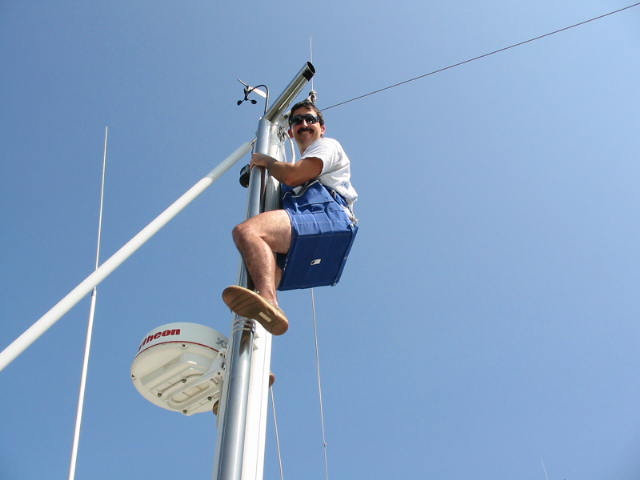 What this photo of Ron doesn't show is that Nancy hoists him up and down the mast using a hand cranked winch.  This allows her some leverage, in more ways than one.